2022 Jeep Wrangler in Hamilton, Ontario
2022 Jeep Wrangler For Sale in Hamilton, Ontario
Whether adventuring on the open road or coasting along the highway, the 2022 Jeep Wrangler provides an unrivalled sense of freedom. Roll that top back and experience what generations of Jeepsters covet: rugged off-road journeying with modern conveniences. At Dewildt Chrysler, we have all-new Jeep vehicles and feature the new 2022 Jeep Wrangler on our lot. Here's a glimpse of what you would be getting when you choose the 2022 Wrangler.
2022 Jeep Wrangler Interior and Exterior
The exterior design of the 2022 Wrangler immediately inspires adventure. The new design is a seamless mesh of modern and classic Jeep characteristics. The 2022 Jeep Wrangler is jam-packed with adventure-inspiring features like 17-inch wheels that can go as large as 20-inches and available LED headlights for ultimate visibility.
On the inside, the 2022 Wrangler offers a spacious and durable cabin that is absolutely luxurious on higher trims. The high ground clearance and wide windshield provide commanding and unobstructed views that allow for maximum pleasure and easy maneuverability. For a whole new perspective, remove the doors, pop the top off, and even get rid of the windshield for an open experience and freeing journey.
2022 Jeep Wrangler Interior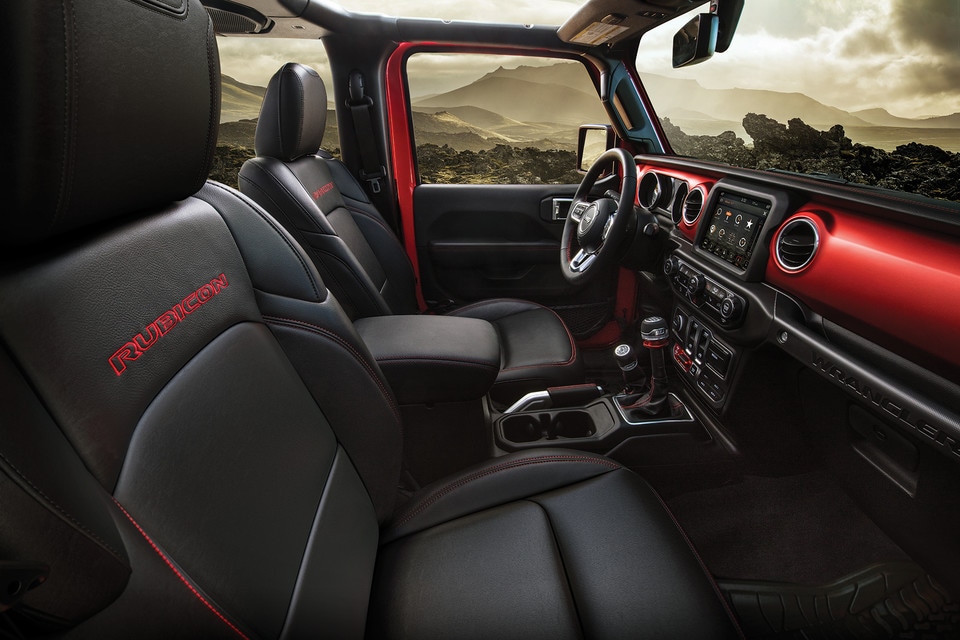 2022 Jeep Wrangler Exterior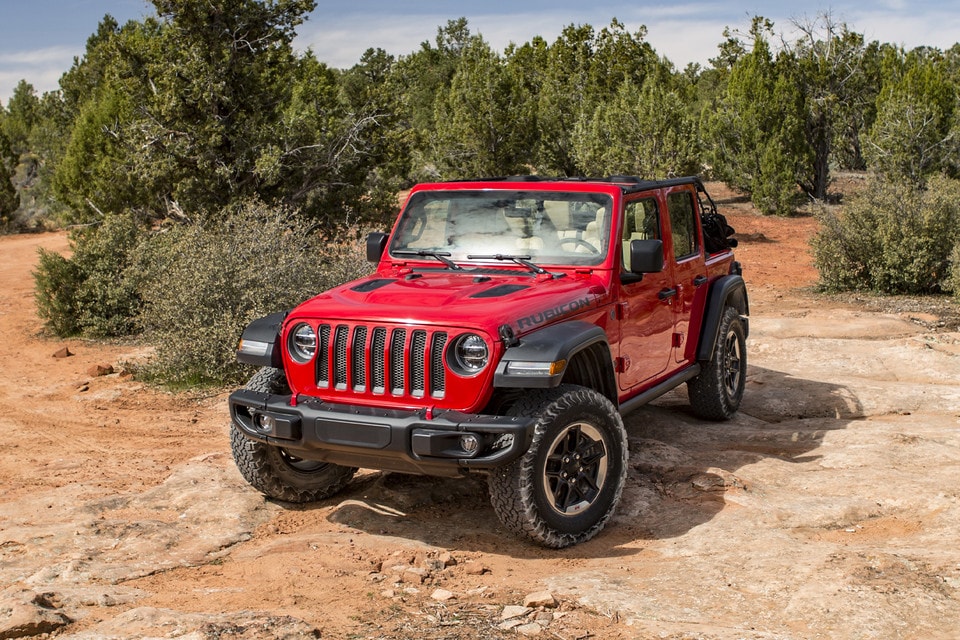 2022 Jeep Wrangler Lineup
Perhaps what distinguishes the 2022 Jeep Wrangler most is its highly customizable nature. Not only is it easier than ever to add accessories to the 2022 Wrangler, but you can also find it in 13 incredible trims and a variety of colours. The 2022 Jeep Wrangler trims are Sport, Willys Sport, Sport S, Willys, Rubicon, Unlimited Sport S, Unlimited Sport Altitude, Unlimited Willys, Unlimited Sahara, Unlimited Sahara Altitude, Unlimited Rubicon, Unlimited Sahara High Altitude, Unlimited Rubicon 392.
Each trim brings unique additions and features to the 2022 Jeep Wrangler. The premium trim, the Unlimited Rubicon 392, is a high performer with bigger brakes and FOX shocks suspension. The Unlimited Sahara Altitude has exterior black accents and a luxurious all-black interior with leather-trimmed bucket seats. The Unlimited Rubicon enhances off-roading with an Off-Road Plus driving mode, and the Unlimited Sahara adds an incredible Alpine premium audio system so you can blast your music wherever you go. No matter which trim you pick, you can ensure that your new 2022 Jeep Wrangler will be unique to you.
Choose Jeep
It's time to up your road game. Trade-in your old vehicle for a stunning 2022 Jeep Wrangler today! Reach out to us for more information about the 2022 Jeep Wrangler lineup, specs, and features. We'll be happy to help you find the right one for you. From test driving to financing, our dealership in Hamilton, Ontario, will help you with all your automotive needs.
2022 Jeep Wrangler in Hamilton, Ontario