2021 Grand Cherokee L in Hamilton, ON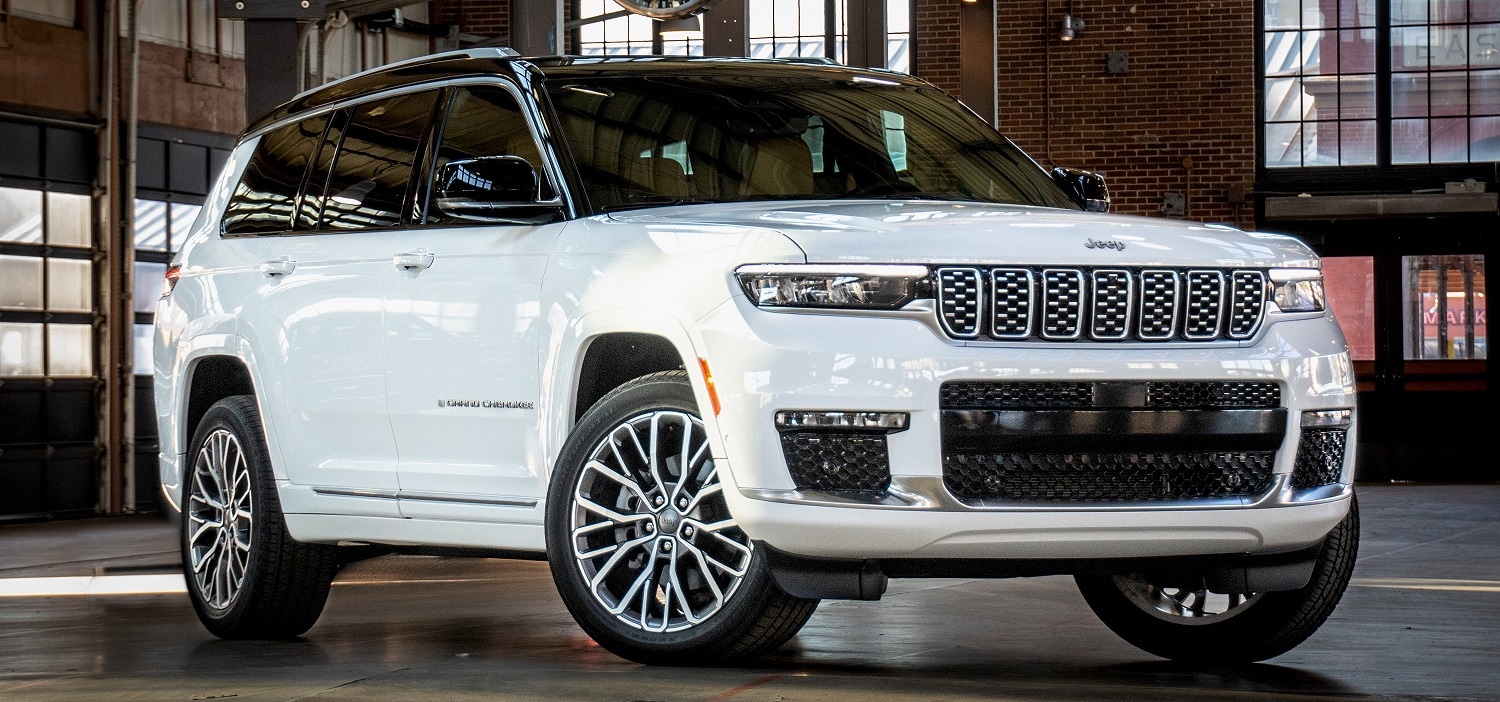 2021 Grand Cherokee L in Hamilton, ON
If there's an SUV on the market that does it all, it is the 2021 Grand Cherokee L. The Grand Cherokee L in Hamilton, Ontario standouts with the elegance and prestige of a city-worthy SUV and the prowess and mechanical build of a Jeep to excel in off-road performance and handling.
The L is a bigger version of the Grand Cherokee, which is also a popular Jeep SUV. The Grand Cherokee L adds a third row of seats and additional luxury features that make it a top pick for families needing a larger, more upscale reliable hauler.
Whether you are looking for more information on the 2021 Grand Cherokee L for sale or you want to take the Grand Cherokee L for a drive, you'll find the range of models in our all Jeep inventory and knowledgeable staff to answer all your Jeep questions.
Capability and Technology
The Grand Cherokee L hosts a comprehensive package that includes exceptional performance in addition to all the other luxury and practical amenities that it offers. Uconnect technology is included with the Grand Cherokee L, and you can get a premium Alpine audio system with a subwoofer. We can provide you with all the details you need about the Jeep and buying a new car, starting with searching our extensive new inventory for the Grand Cherokee L model that fits your image for the perfect vehicle.
The family hauler features a V6 engine under its hood with variable valve timing technology. The engine is also designed to maximize fuel economy with start-stop technology. The Jeep's standard transmission is an automatic that has eight speeds. Regardless of where you are driving, the Jeep is engineered to get you to your destination with ease, carving through snow, in the rain, or traversing the rocky terrains in the sunshine.
Five drive modes are available on the L that help the SUV quickly adapt to various road surfaces and changes in conditions. The Grand Cherokee L also comes with several different four-wheel-drive systems for extra off-road durability.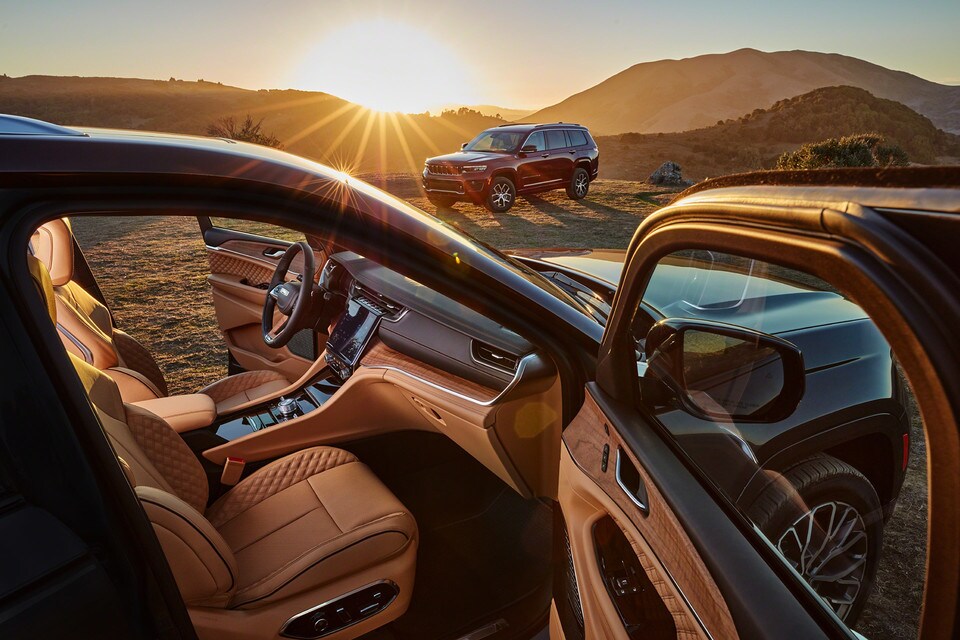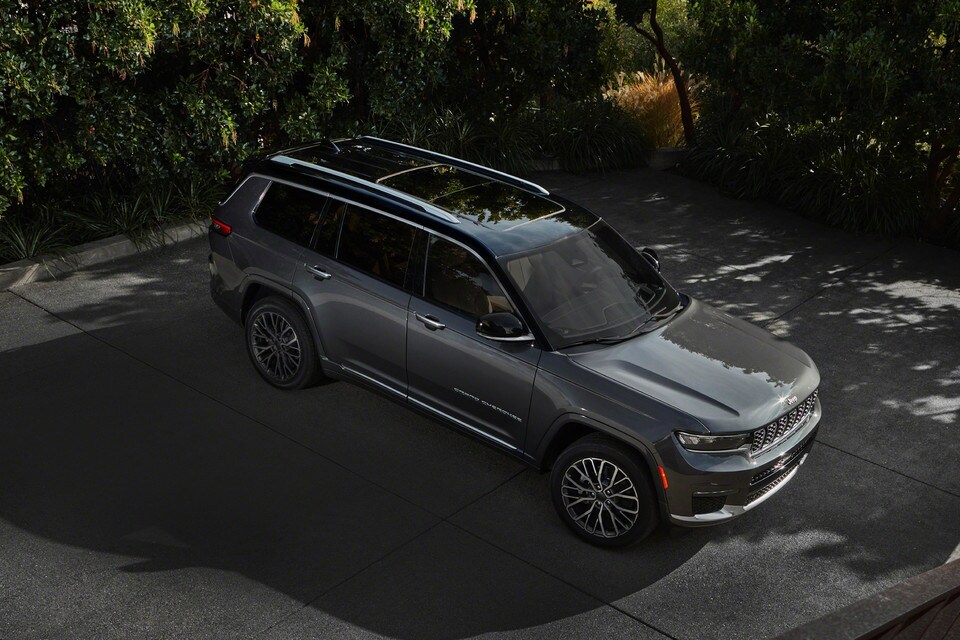 Interior and Exterior of Jeep Grand Cherokee L
The 2021 Grand Cherokee L in Hamilton, Ontario, has a plush, large, distinctive cabin. The L Jeep has a state-of-the-art interior with detailed craftsmanship from front to back. Luxurious materials give the Grand Cherokee L an elegant air, and it has a quiet cabin with sound-dampening materials.
Many notable amenities are standard, including first-row and second-row heated seats. Remote start is standard, and the Jeep Grand Cherokee L is also equipped with a power liftgate. In addition to all the base features, more amenities are added up the line, including a Uconnect infotainment system, a larger touchscreen interface, and navigation.
Along with all the standard features, you can choose from many different optional comforts to enhance the L's ride. Some standout features available to accessorize your Jeep include comfortable leather upholstery, four-zone climate control, and an interior with ambient mood lighting complete with LED bulbs. There is room to seat seven people in the Jeep, and you can get captain's chairs so that everyone has even more room to spread out and enjoy their own space.
On the outside, the Grand Cherokee L has a polished look with four attractive paint colours available. Chrome accents give the Jeep an attractive appearance, and it sports classic Jeep features, including a seven-slot grille.
With the standard exterior components with each Jeep, you will find that some trim levels offer upgrades. On the higher-end trims, for instance, you can opt for wheels of assorted sizes. LED headlights come standard on the Jeep for excellent visibility when lighting conditions are poor.
Contact Us
Feeling like you're ready to upgrade to the 2021 Grand Cherokee L? Don't hesitate to contact us for details or if you want to find out more information about the Jeep and learn about the next steps in making a purchase.
2021 Grand Cherokee L Inventory in Hamilton, Ontario